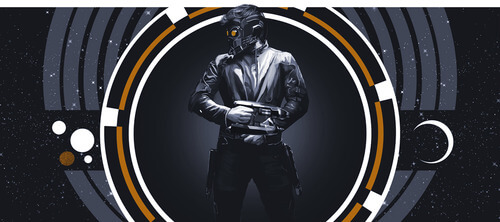 Nagy várakozásokhoz hűen megvolt az esélye a Guardians of the Galaxynak a nagy bukásra, de szerencsére jól sült el. Jó arányú szórakoztatás, akció, kaland, és kellően visszafogott mértékű szerelem és szentimentális közjáték.
Mintha egy Star Wars méretű univerzumot építettek volna fel, csak vicces formában; de a humor mellett a világ részletgazdag kidolgozottsága lenyűgöző volt. Például az óriási fejbe épült bányászkolóniának már az ötlete is izgalmas, de ahogy a látképét megfestették, az a klasszikus sci-fiket idézte.
Voltak benne blőd pillanatok (felrobbanó űrhajó, űrben lebegés, majd másodpercek múlva karcolás nélkül hempergés), de pont az segített az ilyesmit átveszelni, hogy a film sem vette túl komolyan önmagát.
Érdemes megnézni a Guardians kapcsán készült plakát termést, mert már a hivatalosak között is volt néhány extra darab (karakter plakátok és a spéci IMAX verziók), plusz a rajongók is termeltek rendesen. Válogattam ezek közül egy jó adagot.
Hivatalos plakátok
Rajongói plakátok